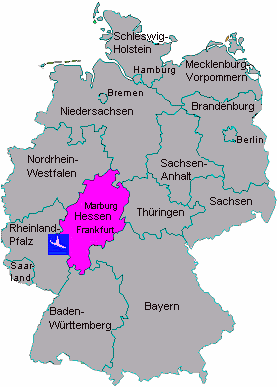 Centrally located in the heart of Hesse, the town of Marburg is about 100km (approx. 62 miles) north of Frankfurt. There are hourly train connections to the Frankfurt airport, driving to Marburg by car takes about an hour depending on the amount of traffic. You can also easily reach Marburg by remote bus.
Marburg's central location makes it easy to travel to other cities and towns in Hesse and enjoy the opportunities for shopping and entertainment offered there.
Our institute is located in Marburg's downtown area, only minutes away from the historic Altstadt. Several of our classrooms are in the Ortenbergcenter near the main station.
The entire downtown area (shops, cafés, bars, restaurants, etc), the university canteen, library and central administrative offices are with-in a 10-minute walking distance of the classrooms.
Our institute is easily accessible with public transportation, the nearest bus stop is Wilhelmsplatz (2 minute walk). The accommodations are chosen for their proximity to the school and city center and are located no farther than 20 minutes out (by car or public transportation).
If travelling to Marburg by car on the Highway B3a take the exit marked "Marburg Mitte" and proceed toward the city center (follow signs marked "Richtung Innenstadt"). After crossing the Lahn River Bridge continue on straight through the intersection onto Universitätsstraße. 
You can use our customized Google-Map (we've marked all important landmarks)to help you find your way around Marburg quickly. You can also use it to plan your route to us.
A printable version of the Marburg city map showing the downtown area is available HERE. 

---